Next Upcoming Updates: Seasons 2 and 3 Episode Pages, More Supporting Characters Pages and Much More!


Welcome to the Hey Duggee Wiki! A-Woof!
Introduction
Hey Duggee Wiki is the Wiki Website about the British Pre-School programe, Hey Duggee! If you are in to this show and it's content, feel free to edit! The most important is that you can read the rules first.
We are currently editing 84 articles and hosting 468 images, with 1,393 edits being made in total.
Enjoy! A-Woof-woof!
Meet Duggee and The Squirrels!
Also Meet Duggee's Friends Too!
The Squirrel Club's Families
What's Hey Duggee? Duggee can explain!
Hey Duggee is a British animated educational preschool television series aimed at 2 to 5 year olds. Created by Grant Orchard, it is produced by Studio AKA, in association with BBC Studios (formerly BBC Worldwide). The show is narrated by Alexander Armstrong.
The programme is based around The Squirrel Club, an activity club for children. The children take part in all kinds of activities, have adventures and earn badges for their accomplishments. Each episode shows the squirrels complete an activity or adventure relating to a badge, that the squirrels earn at the end of the episodes. There is no set formula for every episode, with many episodes referencing or parodying pop culture.
Hey Duggee has three seasons/series. It was first shown in December 2014. BBC and Studio AKA produced a second series in early 2016, with the first episode airing in the United Kingdom on 26 September 2016. A third series was commissioned in October 2017, with the first episode due to be broadcast in Autumn 2018, but was pushed back to 4 March 2019. It aired until June 2020 with special episodes shown in December. The third series received increased acclaim and popularity amongst children and adults alike during the 2020 pandemic lockdowns.
The Series is currently on Series 3 for far.

Current Episodes
(Season 3, Episode 37)
Duggee
hosts a Buddy Bonanza for
Mrs Weaver
and the Squirrels, with the aim of finding new buddies with common interests to them.
(Season 3, Episode 38)
It's bridge-building time… the Squirrels help a quarrelling group of
Gerbils
sort out their longstanding disagreement.
---
Next Episode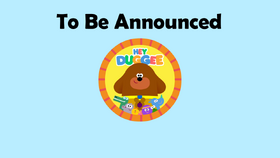 What do you Think What's Next for the Squirrel Club? New Episodes Coming Soon!
---
Current Song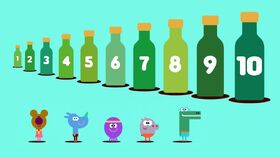 10 Green Bottles
(sang by
Hennie
)
Can you finish the lyrics?
Ten green bottles hanging on the wall, Ten green bottles hanging on the wall, And if one green bottle should accidentally fall, There'll be _____ green bottles hanging on the wall.
Sing-a-long to Hey Duggee's 10 Green Bottles!
---
Official Hey Duggee Facebook Page
---
More CBeebies Wikis or Check the Footer for More CBeebies Shows!
Or Check out More YouTube Kids Wikis!